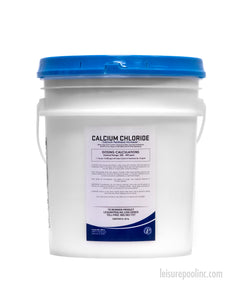 Calcium Hardness Increaser | 25 lb. Pail
25 lb. Pail Calcium Hardness Increaser
Calcium Hardness Increaser, also known as Calcium Chloride, will raise calcium hardness levels in commercial and residential swimming pools and spas. Other uses include ice melt, dust control, and a concrete accelerator. This product comes in 50 lb. and 25 lb. pails, is not hazardous, and ships UPS Ground.
Why do you need to balance your CH levels? 
Low calcium hardness in your water can result in corrosion and etching of your pool/hot tub surface. If the calcium hardness level swings too high, this can result in calcium buildup, clouded water, and clogged mechanicals. The optimum Calcium Hardness level is between 200 to 275 PPM. To remove calcium from the pool, the old water must be drained and new water with less calcium added to dilute.  
Instructions for use: 1.1 lb. of product per 10,000 gallons will raise Calcium Hardness levels by 10 ppm.
---
We Also Recommend