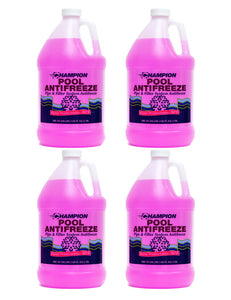 Case (4 Gallons) Swimming Pool Anti-Freeze, -50 Degrees | Non-Toxic
Premium Swimming Pool Anti-Freeze by Champion Packaging & Distribution. Champion Pool Anti-Freeze has a -50 degree burst protection rating and can be used on all types of pool plumbing. Champion Anti-Freeze is a Non-toxic propylene glycol anti-freeze and protects your pool plumbing from freeze damage. Champion Pool Anti-Freeze is safe to be released into the pool in the spring. 
One gallon treats 10 feet of 1.5-inch pool plumbing.