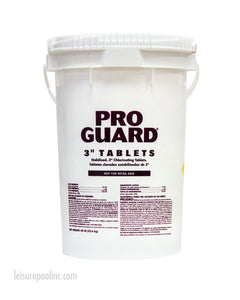 25 lb. Pail | ProGuard Stabilized 3" Chlorinating Tablets
25 lb. Pail | ProGuard Stabilized 3" Chlorinating Tablets
This is a 3" stabilized chlorine tablet for use in slow erosion feeders designed for stabilized chlorine products. Use Caution: Monitoring is required for "over-stabilization" with this product due to cyanuric acid being built in the tablet. High cyanuric acid levels can have an adverse effect on your free chlorine levels' ability to actively kill harmful bacteria and organics in the water.    
Stabilized DiChlor and TriChlor products have lower pH levels that will drive your pool water's pH down. This results in higher than normal use of pH increaser. 25 lb. and 50 lb. pails of pH Increaser (soda ash) are available in the "Balancers" section of BulkChlorine.com or you may click on the link(s) below:
25 lb. Pail - pH Increaser (Soda Ash)
50 lb. Pail - pH Increaser (Soda Ash 
This product ships via UPS Ground (hazmat).

**Supply Shortage** Due to the current nationwide shortage of stabilized chlorine products, stock levels are extremely limited. Purchases may be limited to one (1) per customer. We are working closely with Bio-Lab, Inc. (the Nation's largest manufacturer of stabilized chlorine products) to maintain supply levels as best we can. Bio-Lab, Inc. is supplying an extremely limited number of "high volume" dealers across the country from their emergency stockpile in California. Check back often as we may have just received our monthly allotment.  
---
We Also Recommend